Note: Contact the Web Dude to place an ad (current Wolverine Rangers members only.)
All items listed must be Cowboy Action Shooting related. Ads will be kept for approximately six months
or until the webmaster is notified to remove the ad or at the Wolverine Ranger's discretion.
These are private transactions. The Wolverine Rangers have no involvement whatsoever.
Items listed here are merely a courtesy to our membership.
Note: All items are "For Sale" unless otherwise noted.
---
45 Bullets for sale

500 New Midway hard cast. 45 Colt. .452" dia 250 gr.
Likely made by Meister $50.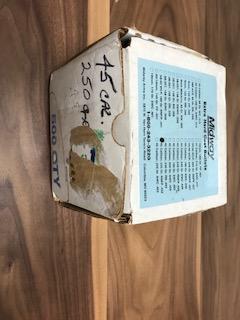 Attica Jack 586-569-1502 denniscoon@aol.com
---
Support High School Trap Team

Normally the classifieds is for Wolvering Ranger members, but we made a special exception for a good cause. A person donated a lot of supplies to the Saling High School Trap Shooting Team
This link is to a Google page that gets updated on what's still available.

Link Here for List of parts/supplies.
Good luck
---
For Sale:

My gain is your gain - thanks to Covid, I'll probably never fit into this jacket again.

The tag says size 44 - but it's a little tight for that. If you are on the bigger side of size Large shirts, it'll probably be too tight. Perfect for a Medium or a smaller Large.
I can't guarantee you'll shoot faster or cleaner wearing this, but you will look stylin' while shootin'. All for the low cost of $50.


Contact:
The Lost Egg (Jeff Jaje)
jeffrey.jaje@gmail.com
586 612 0857
---
---