Note: Contact the Senior Web Lady to place an ad (current Wolverine Rangers members only.)
All items listed must be Cowboy Action Shooting related. Ads will be kept for approximately six months
or until the Senior Web Lady is notified to remove the ad or at the Senior Web Lady's discretion.
These are private transactions. The Wolverine Rangers have no involvement whatsoever.
Items listed here are merely a courtesy to our membership.
Note: All items are "For Sale" unless otherwise noted.


---
** Both good starter  guns **

Hartford 357 lever action, 12 ga -$400






12ga , outside hammers - $225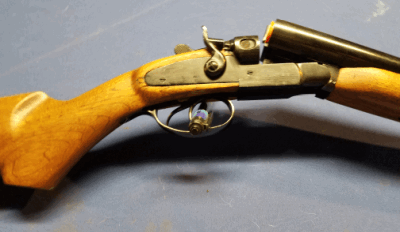 Contact: Bulldog Jim at  jjsprague@charter.net  or 231-587-8040

Posted 06/11/2018

---
Pedersoli Creedmore sight #454, 2 3/16" max. base mounting - $95
Pedersoli globe sight with 14 inserts, $50 or $130 for both.

Contact: Attica Jack at 586-569-1502

NOTE: Click on the image for a larger view.
---
Uberti Remington 1858 New Army Conversion, .45 Colt, 7" barrel, "new," never fired. $445
Armi Sport 1865 Spencer, .45 Colt, maybe 250 rounds through it.
Very fun to shoot and I'd rather not sell it, which is why the price is firm.
One thing: If you use this in a match, no one will ever accuse you of shooting too fast.
Comes with ammo box and loading tubes. $1175 firm.
Pedersoli Remington Rolling Block. 45/70, bought used but I've never fired it.
Coin silver forearm cap. I'm not sure of the exact model, but it has a set trigger,
and a blade front sight, and came with a buckhorn rear sight which I have replaced
with a Pedersoli long-range tang sight fitted with a Hadley variable-aperture eyecup. $1495
Cimarron Sharps McNelly carbine, 45/70, ladder rear sight, blade front sight, Texas Ranger markings.
Msg 2005. 50 rounds or so through it. $1175
Prices are as suggested by the Blue Book of Gun Values, and I'm open to dickering,
except for the Spencer (that is firm). No trades wanted, please don't ask.

I'm generally willing to meet you somewhere within a couple of hours for a face-to-face.
Contact: Badlands Beady at Jabeady@att.net or 517-974-2032 and leave a message.
Posted 12/05/17

---

Uberti 1860 Henry Rifle, 44-40 caliber, reloading dies, bullet mold, extra cases. Excellent condition.
Brass has a beautiful patina or you can polish back to bright. $875
Contact: Panhead Pete at 734-812-5679
Posted 12/04/17

---

Triple K 6 loop 12ga. shotgun slide. $12



Contact: Attica Jack 586-569-1502

Posted 12/03/17
---
New, never mounted, Marbles tang sight complete with mounting hardware.
The sight fits Remington Rolling Blocks & Uberti 1873 rifles according to the Marbles website.
REDUCED TO $100 (was originally $120)
Contact: Wally Liley at 248-628-7424 or wall_man5009@hotmail.com
Please mention W.R. ad if you call, write or leave a message!

Posted 12/02/17
---
*** PRICE REDUCED ***
107 rds. of 38 S&W. 50 Remington, 14 Remington and 43 Winchester Super X. $30
This ammo is in excellent condition, in original boxes.
Contact: Attica Jack 586-569-1502

Posted 12/01/17

---