Note: Contact the Web Dude to place an ad (current Wolverine Rangers members only.)
All items listed must be Cowboy Action Shooting related. Ads will be kept for approximately six months
or until the webmaster is notified to remove the ad or at the Wolverine Ranger's discretion.
These are private transactions. The Wolverine Rangers have no involvement whatsoever.
Items listed here are merely a courtesy to our membership.
Note: All items are "For Sale" unless otherwise noted.
---
Click on an image below to view a larger image.
Quality Pedersoli Sharps in 45-70 Govt

Features:
Silhouette model
Pederosoli Ladder Sight
Lee Shaver Spirit Level Front Sight
79 pieces of brass
11 loaded rounds
$1,400 - no trades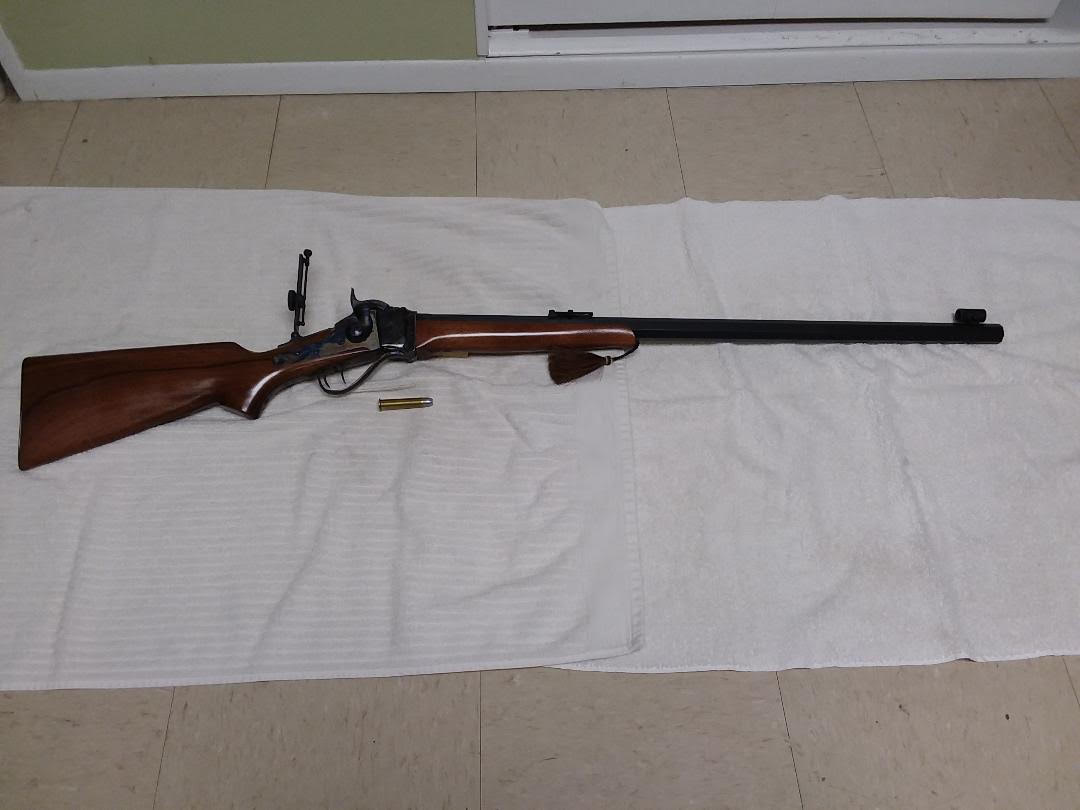 Contact Attica Jack 586 569-1502 or email denniscoon@aol.com
Posted 09/12/19

---
Click on an image below to view a larger image.
Quality Pedersoli reproduction of the Remington Rolling Block in 45-70 Govt

Features:
30" Octagonal Barrel
Checkered Pistol Grip
Handsome walnut furniture
4" Creedmore style rear sight
spirit level tunnel front sight

In overall excellent condition
Price: $950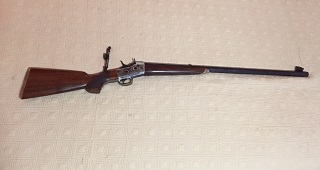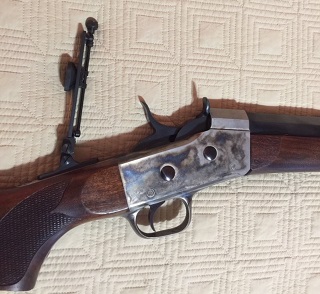 Contact Ramblin Ron (325) 812-6347 or email gabriel3109@msn.com
Convenient availablability for pickup at Range War
Posted 07/19

---
Click on an image below to view a larger image.

Ruger .32 H&R mag, 4 1/2 barrel with bird head grips.
 With approximately 1200 rounds of ammunition,
loaded with 1.7 grains red dot powder and 90 grain bullets,
Dillon shell plate and dies holder, and miscellaneous brass and lead.   $1,450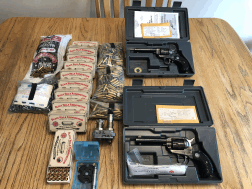 Contact: Card Shark Charlie at (616) 437-6732 or bdrury1954@gmail.com

Posted 06/09/19
---
Click on an image below to view a larger image.
3rd generation Colt, 45 cal., 5 1/2" barrel, tuned by Lee's Gunsmithing from California,
used very little, in the original cardboard box. $1500
Optional wooden display box. $100 additional

2 matched AWA's, .45 cal., 5 1/2" barrel, used very little. $1800/pair

12 ga. double barrel shotgun, two hammers, two triggers, 20" barrel. $400

Uberti '73 deluxe model rifle, 45 cal., 24" barrel, super short-stroked, used very little. $1200
InterArms Model '92, 45 cal., 24" barrel, used very little. $450

NOTE: $5,000 takes all.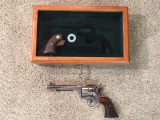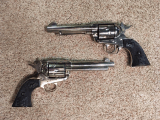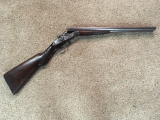 Contact: Secondhand Jack at secondhandjack45@gmail.com

Posted 05/18/19

---
Uberti Remington 1858 New Army Conversion, .45 Colt, 7" barrel, "new," never fired. $445
Armi Sport 1865 Spencer, .45 Colt, maybe 250 rounds through it.
Very fun to shoot and I'd rather not sell it, which is why the price is firm.
One thing: If you use this in a match, no one will ever accuse you of shooting too fast.
Comes with ammo box and loading tubes. $1175 firm.
Pedersoli Remington Rolling Block. 45/70, bought used but I've never fired it.
Coin silver forearm cap. I'm not sure of the exact model, but it has a set trigger,
and a blade front sight, and came with a buckhorn rear sight which I have replaced
with a Pedersoli long-range tang sight fitted with a Hadley variable-aperture eyecup. $1495
Cimarron Sharps McNelly carbine, 45/70, ladder rear sight, blade front sight,
Texas Ranger markings. Msg 2005. 50 rounds or so through it. $1175
Prices are as suggested by the Blue Book of Gun Values, and I'm open to dickering,
except for the Spencer (that is firm). No trades wanted, please don't ask.

I'm generally willing to meet you somewhere within a couple of hours for a face-to-face.
Contact: Badlands Beady at Jabeady@att.net or 517-974-2032 and leave a message.
Posted 04/03/19

---